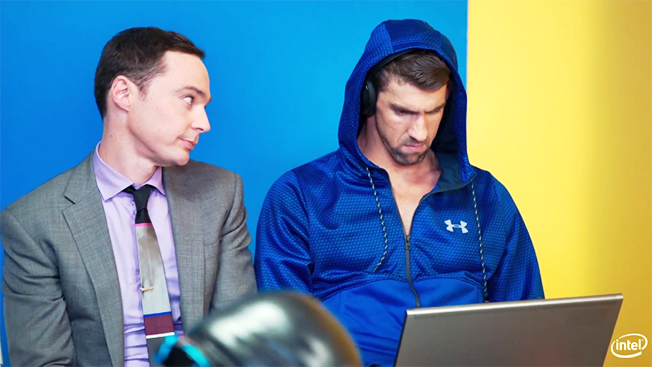 Michael Phelps parlays the "Phelps Face" into a new Intel campaign.
Michael Phelps parlays the "Phelps Face" into a new Intel campaign.
https://dlbltd.com/wp-content/uploads/2016/10/phelps-face-intel.png
652
367
Darcy L Bouzeos
https://secure.gravatar.com/avatar/28401f24f5c1bdf83230243333ea8140?s=96&d=mm&r=g
It's a smart move by Intel to snatch up Michael Phelps as endorser, fresh off his amazing performance in Rio where he solidified his legacy as the most decorated Olympian of all time.
The theme of Intel's new campaign revolves around Phelps, known for his incomparable speed, struggling with the world's slowest computer.
Phelps joins Jim Parsons of The Big Bang Theory fame in commercials titled "Faster Processing" and "Phelps Face". (Parsons has been starring solo in Intel's advertising so the addition of Phelps is double-the-magic.)
One spot focuses on Phelps' frustration as his PC can't keep up with him while Parsons encourages him to upgrade to a faster Intel-powered PC.  This concept obviously plays off of Phelps' quickness in the pool and his more serious demeanor is nicely balanced by Parson's quirky persona.
The other spot cleverly capitalizes on Phelps' famous "death stare" which was seen around the world as he sat in the ready room before his race with long-time nemesis Chad le Clos.
It captures Phelps in the same hood drawn, stern face position, as he deals with his slow computer.
Phelps has been a successful endorser throughout the years, however a few missteps out of the pool sidelined him for a while from requests by Madison Avenue.
Today, Phelps has 28 Olympic medals and has rehabilitated his image and reputation to be an even stronger and more appealing spokesperson.
Nice job Mr. Phelps and strategic move Intel.
DLB – Procuring celebrities, athletes and influencers for companies, agencies and non-profits
Follow DLB on Twitter: @DarcyLBouzeos