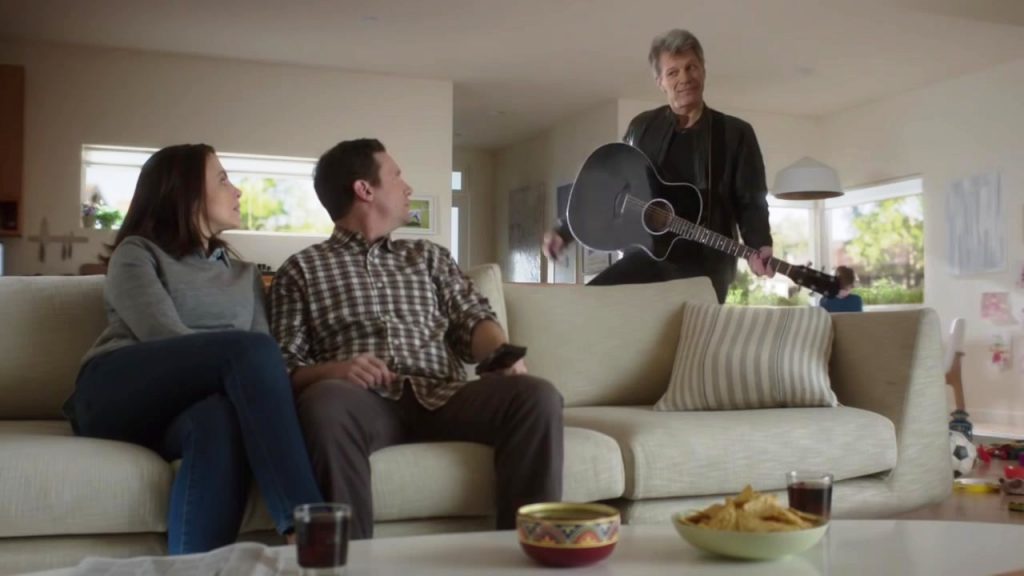 Jon Bon Jovi singing for DirecTV.
Jon Bon Jovi singing for DirecTV.
https://dlbltd.com/wp-content/uploads/2016/05/DirecTV-Commercial-Jon-Bon-Jovi-1024x576.jpg
1024
576
Darcy L Bouzeos
https://secure.gravatar.com/avatar/28401f24f5c1bdf83230243333ea8140?s=96&d=mm&r=g
DirecTV has consistently utilized celebrity and athlete endorsers in catchy and entertaining ads (think Rob Lowe and Peyton Manning) – and its new commercial with music icon Jon Bon Jovi continues that creative run.
In the spot, Bon Jovi magically appears in a married couple's home as they realize they forgot to record a favorite show.  With guitar in hand, he explains to them through a song that they can "turn back time" and still watch the show due to a new DirecTV feature.
In a funny ending, he also suggests with their ability to turn back time, they may want to reconsider their decision to have a second child who is seen drawing with crayons on the wall.
This is a very effective brand alignment for DirecTV for two reasons.
First, Bon Jovi is an authentic entertainer/philanthropist and likeable personality. The playful and creative manner in which he is showcased in this spot is very appealing.
Second, Bon Jovi did no endorsement deals for the first 30 years of his singing career and only recently stepped onto the branding stage when he endorsed Advil for Pfizer.
Bon Jovi's limited exposure in the marketing arena adds unique value to DirecTV because his participation immediately grabs a viewer's attention since he is so seldom seen in branded campaigns.
This is a very smart use of a spokesperson.  Good job DirecTV.
DLB – Procuring celebrities, athletes and influencers for companies, agencies and non-profits
Follow DLB on Twitter: @DarcyLBouzeos