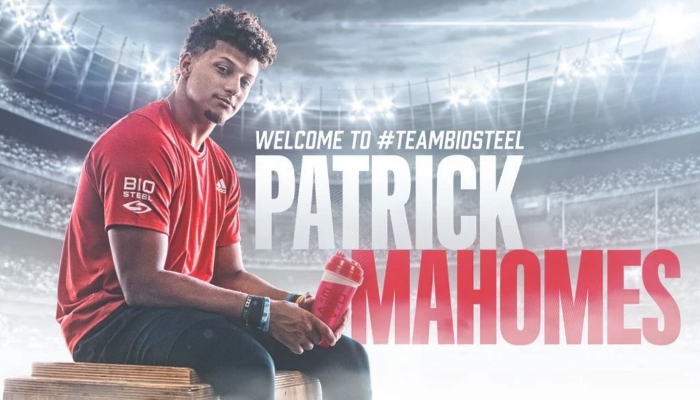 For extra "pocket change", Patrick Mahomes signs his first endorsement deal since winning Super Bowl LIV
For extra "pocket change", Patrick Mahomes signs his first endorsement deal since winning Super Bowl LIV
https://dlbltd.com/wp-content/uploads/2020/08/Patrick-Mahomes.jpg
700
400
Darcy L Bouzeos
https://secure.gravatar.com/avatar/28401f24f5c1bdf83230243333ea8140?s=96&d=mm&r=g
In a crowded field of sports nutrition products, BioSteel Sports Nutrition Inc. just grabbed headlines with its partnership with superstar MVP Quarterback Patrick Mahomes.
BioSteel is a Canadian company, so it's a brilliant move to work with the new "face of the NFL" in order to increase brand awareness in the U.S. and attract new customers.
Although BioSteel has been working with Connor McDavid (Edmonton Oilers) and Ezekiel Elliott (Dallas Cowboys) as endorsers, aligning with phenom Mahomes will take its marketing ability to another level.
Aside from Mahomes' enormous appeal – he has a genuine connection to the brand.
Mahomes has worked with a trainer since the fourth grade who introduced him to the product years ago.  Mahomes became a fan and an actual consumer of the product which is the ideal and authentic connection companies dream of when positioning with a brand ambassador.
Although many professional athletes look to supplement their income through marketing deals, Mahomes is in a different stratosphere given his $503 Million Dollar contract with the Kansas City Chiefs.  He really doesn't need to do much off-the-field to keep food on the table.
However, given his immense talent and charming personality, look to Mahomes to step into a very prominent spotlight as a product spokesperson.
And to you brands out there, take a place in line.
DLB – Procuring celebrities, athletes and speakers for companies, agencies and non-profits
Follow DLB on Twitter: @DarcyLBouzeos